1994 Impala SS Complete Part Out (Yes, another one)
---
94 Impala SS complete part out, 100,210 miles, VERY clean car before the wreck.
PM or email me with requests, please include your zip code so I can get you a shipping quote in my reply.
PARTS: (If you don't see it ask)
-Door Panels (Bad driver arm rest, carbon fiber stickers on the bezels, crack in passenger bezel) : $350 OBO
-MAF (have 2 or 3): $25 each
-PCM (16188051): $65
-PCM (From a 94 Camaro) (16188051): $65
-Door bottom outside trim (complete, decent condition, scuffs on bottom of trim from being a lowered car): $50
-Rear View Mirror: $30
-Driver side mirror: $25
-Tranny cooler (from a non-wreck car): $30
-Driver side headlight (from a non-wreck car): $30
-Steering box: $75
-A pillars (Have a few sets): $20 each
-Power seat Harnesses (Have 3 passenger, 2 driver): $30 per side
-Cat. Converters: $80 for the set (have two sets)
-Cruise Control Module: $30
WILL NOT SHIP (located in Walpole, NH):
-Rear end: $250
-LT1 (Good runner, yard drives): $500
-LT1 Short Block from a 94 Camaro: $250
-Upper Dash: $100
-Front Seats (Have 2 sets, both have good passenger seat, decent driver seat): $250 per pair
-Rear Seat (Have 2, both MINT): $100 each
PARTS SOLD OR OTHERWISE NOT FOR SALE:
-Door spears: SOLD
-Center Console : SOLD
-Headlight Harness: SOLD
-Lower Dash: SOLD
-4l60E: SOLD
-Wheels: SOLD
-Sun Visors: SOLD
-Seat Belts: SOLD
-Stock CD Player: SOLD
-Spoiler: SOLD
-Wheel well trim (Rears only): SOLD
-Tail Lights: SOLD
-Outside Mirrors: SOLD
-Gauge cluster: SOLD
-Driver door door sill plastic: SOLD
-1/4 Windows w/plastic triangles and deer: SOLD
-Trunk Emblem: SOLD
-Steering Wheel: TRASHED
-Springs: GOING ON MY CAR
-Electric fan setup: TRASHED
-Grill: TRASHED
---
-96 Impala SS - LS Swap - 44K original miles
---
Last edited by Pooge; 09-18-2009 at

05:56 PM

.
doesn't help me at all, but someone would probly be intrested in the door spears.
ill take the full seat belt set and visors if they are in good shape. Also would you be willing to ship some interior panels? looking for the mid pieces where the front seatbelts are and front and rear trim that runs along the rockers and kick panel pieces up under the dash
---
96 Caprice 9C1 LT1 3.73 posi, Spohn sways, IMR lowers, fully poly, KYB, FIPK, air foil, TB bypass, 160* T-stat, airpump delete, PCM tune, edge 2600, dynomax pipes/spintech prostreets, Z28 cluster, 12 way Bonnies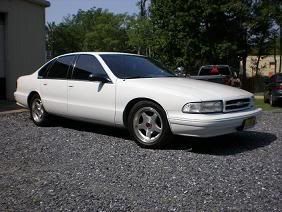 So it was you that bought it! I was heading down and the guy called me and said don't bother. Damn you! lol. Free Bump!
Member
Join Date: Sep 2004
Location: Pasco, WA
Posts: 89
tail lights
---
dibs on 94 ss tail lights for 50.00 to houston,tx. 77014
what's the shipping cost?
---
1996 DGGM (underconstruction)
1996 BBB (R.I.P. 2001)
1996 Caprice (R.I.P. 2013)
1970 Cadillac Sedan de Ville (uc)


How about the front driver side sill plate & rear driver side arm rest shipped to 54660?

Thanks!
---
Norm Anderson

1996 DGGM......all stock, but back in the game!!
1996 BBHP#2/383.....SOLD!!
1994 DGGM Woody wagon.....mostly stock.....SOLD!!
1968 Impala Sport Coupe.....383/700R4.....SOLD!!
1995 DCM BBHP #97.....SOLD!!
1995 LAB Caprice wagon.....SOLD!!
I am working a deal on the entire interior of this car, so if you PMed about interior parts and I have not gotten back to you, I have not forgotten about you, I am waiting for a final answer and deposit on this deal before I reply.
Thanks for those who have already bought stuff, and thanks for all the interest from the rest of you.
Quote:
So it was you that bought it! I was heading down and the guy called me and said don't bother. Damn you! lol. Free Bump!
Yup, that was me, took a risk and made the 3 hour drive on a thursday. Taking a few nice things from this car for my own and selling off the rest. It's a shame, this was a very nice car before the wreck that I believe was caused by a mix of in-dash DVD playing and use of a suicide knob for steering...LOL
---
-96 Impala SS - LS Swap - 44K original miles
Posting Rules

You may not post new threads

You may not post replies

You may not post attachments

You may not edit your posts

---

HTML code is Off

---