SOLD $1500: Ported TFS cylinder heads, (Chapman), from Black Wolf ERE3
---
Photos to follow and more details to follow. For now here is the quick and dirty description of the cylinder heads I would like to sell. The heads are TFS (215cc I think) and they were hand ported by Chapman Racing Heads and they are set up with valve and valve springs for a solid roller cam.
They are the heads that were on ERE383 #3 that pulled the Black Wolf to 10.7 @ 127mph all natural and 10.1 @ 134mph with a 150hp nitrous shot.
The heads are in good shape and they cost $4000 originally.
The price is $1500 for the pair and you pay shipping and the price is firm because it is greatly reduced.
They are for sale because I need to find more money to pay off debits.

thanks,
Karl Ellwein
---
2019 UPDATE: Now using TorqHead with the 0411 ECM.
'95 Impala SS Road Racer-1/4 miler-Street Cruiser
Race Forged ERE-383 LT1, GM "846" cam, 3.73 gears, Baer 4-piston front calipers, Carolina Performance Transmission 4L60E, 3800Yank, 4300lb w/ driver. Last time to the track, (12.10 @ 112 mph)
---
Last edited by Karl Ellwein; 08-27-2009 at

01:09 PM

. Reason: heads are sold
that's a helluva deal!

wish i didn't already have my AFR's
---
1995 bolt-on RMW (thanks fred)
14.174/94.07 motor stock TB
13.946/96.44 motor 52mm TB
12.365/107.74 150 shot
9.377/152.69 '00 Hayabusa with 270lb rider
8.72/162 99 Hayabusa same fat rider
pm sent
---
96 sob 17,xxx stolen
96 sob t-56'ed 69,xxx totaled
96DGGM DD T-56'ed
05 CTS-V 48,xxx
Issca #2324
T-56,845 cam, JPR f-body heads, 1.6 rr, 58mm tb, SSRI, FLP LT , High flow cats, CIA 3" cat-back, 21" Aerochambers, Dennys DS, 3.73's, Eaton posi, Currie upr & lwr cntrl arms, HA rear bar, F-body front bar, QA1's 6 way frnts, Bilstein 0929 rear, Hotchkis springs, MB OS 17"x 9.5"
[SIGPIC]
Quote:
that's a helluva deal!

wish i didn't already have my AFR's
Wish I had a Job
---
Yeah, its held on with gum, staples and tape, only because I ran out of 5 50 cord.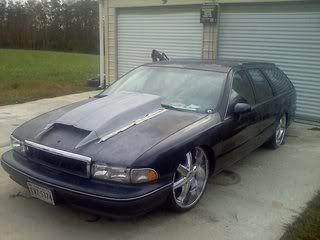 Karl,
I'm real interested in these heads. I'll even come get them for that price cash in hand. Need a day to move some funds around to know for sure.

Chris
sold.
---
Hey guys, sorry for not checking this yesterday. Great interest. Well, the heads are SOLD thankfully.
karl
---
2019 UPDATE: Now using TorqHead with the 0411 ECM.
'95 Impala SS Road Racer-1/4 miler-Street Cruiser
Race Forged ERE-383 LT1, GM "846" cam, 3.73 gears, Baer 4-piston front calipers, Carolina Performance Transmission 4L60E, 3800Yank, 4300lb w/ driver. Last time to the track, (12.10 @ 112 mph)