1997 Mercury Grand Marquis
---
Not and B-Body but its a big body
V-8 4.6 Liter- Very Fast
Cold A/C Will freeze you
Black (Marauder Clone)
Grey Leather interior- Excellent condition
Good Tires
Miner cosmetic damage to air dam
Book Value is $3635
Asking $2500 obo. Will post pics 7-26-09
Call Jay @ 405 549-5264
http://s686.photobucket.com/albums/vv228/hiznameizjj/
---
Underprivelged Impala Owner
Black does not a Marauder clone make but decent car none the less. Good luck with the sale.
---
Johansson Gerena
1995 Impala DGGM SS
S0LD
One of the 4442 for 1995.
9-2-00-original join date.
ISSCA member #2259
You wanna see a 97 Murauder clone, im gonna see if I can get pics of the one at my local speed shop. Its awesome.

Makes me wanna do a Box Impala SS clone. 350 TPI, basically everything that GM would have used as if the 4 door SS Imp was started early.

But.............

This is the parts section it would fair better in the Car FS section

GLWS though
---
Yeah, its held on with gum, staples and tape, only because I ran out of 5 50 cord.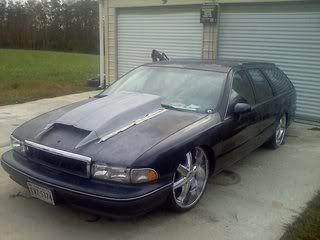 how did you turn a 97 marquis into a marauder clone, because the marauder has the 98+ body style of the vic and marquis
Car is sold
---
Underprivelged Impala Owner