WTB: 96SS "Complete" Shifter Conversion
---
Must be SS Setup . Need the soup to nuts + Looking for DGGM Exterior Wheel Well moldings , Lower door rockers , dggm mirrors

pm me Thank You
---
1995 DCM 9C1 w/SS Exterior/Interior Appearance+96 Console ModList To Date:PCMforless Hotchkiss "useless" Engine Brace & Springs/MonroeSS Shocks 160*HyperTech Thermostat K&N FIPK Gen1 Clear Image TriY Headers aka "rust collectors w attitude" X-Port Pipes to American Thunder Flow(no go) Master50's (no resonators) 1995 "SS" SLP Hood+Intake 22s DGGM'd Out Emblems/Tails
---
Last edited by SeizedAssets; 10-09-2010 at

04:10 PM

. Reason: added items
pm sent
---
96 Caprice 9C1 LT1 3.73 posi, Spohn sways, IMR lowers, fully poly, KYB, FIPK, air foil, TB bypass, 160* T-stat, airpump delete, PCM tune, edge 2600, dynomax pipes/spintech prostreets, Z28 cluster, 12 way Bonnies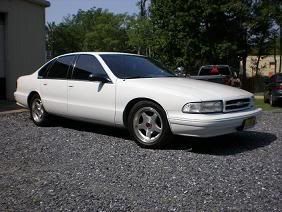 Senior Member
Join Date: Nov 2008
Location: Nj off the Palisade
Posts: 280
weekend bump
---
any1 ?
---
1995 DCM 9C1 w/SS Exterior/Interior Appearance+96 Console ModList To Date:PCMforless Hotchkiss "useless" Engine Brace & Springs/MonroeSS Shocks 160*HyperTech Thermostat K&N FIPK Gen1 Clear Image TriY Headers aka "rust collectors w attitude" X-Port Pipes to American Thunder Flow(no go) Master50's (no resonators) 1995 "SS" SLP Hood+Intake 22s DGGM'd Out Emblems/Tails
---
ISSCA member # 2329
1993 caprice classic: 88,XXX miles, daily driver All stock except tints and radio and Flowmasters...
1995 BBB: Born 1/20/1995
125,XXX bought June of 2010...
Engine: Stock with Just a K and N
Interior: is almost all black has Suede headliner pillars etc.. and stock Grey SS seats.
Exterior: Hotchkis Lowering springs,Camaro Hood scoop, Smoked euros, 6k Hids, billet grille...
im interested in a 96 console setup aswell. i have a 94-95 console id consider trading plus some cash for one.