Member
Join Date: Dec 2005
Location: Spring, TX
Posts: 47
Cleaning out the garage - B-Body parts for sale! Page 1
---
I had a '95 9C1, but sold it over a year ago. Cleaning out the garage and this stuff needs to go or it's going in the trash. Prices are OBO and do not include shipping or PP fees. If you think my prices are high, please make an offer. I'd rather someone get some parts than add to the landfill! I'm in Spring, north of Houston.
You can PM me with questions/offers. I'll try to respond when I can.
'95 B-body factory service manuals (1-3) + Haynes '91-'96 B-body manual - SOLD
Fel-pro timing cover gasket set (I think its missing a seal) p/n TCS45956 - SOLD
Transgo shift kit - most of it was installed on the 9C1, so what you see is all that's left - Gone
GM oil pan gasket, new in package, p/n 10108676 - SOLD
GM exhaust manifold gaskets, new in package p/n 12552469 - SOLD
GM gaskets (set of 4), package open, but gaskets never used, p/n 88891747 - SOLD
GM timing cover seal, new in package, p/n 10128316 - SOLD
AC Delco throttle position sensor, package open, but never used, p/n 213-894, GM p/n 17106680 - SOLD
GM steering stops, Right and Left, new in package, p/n 10225366/10225365 - $10 for both
GM springs (for turn signal return I think), new in package, Right & Left, p/n 10476617/10476618 - $5 for both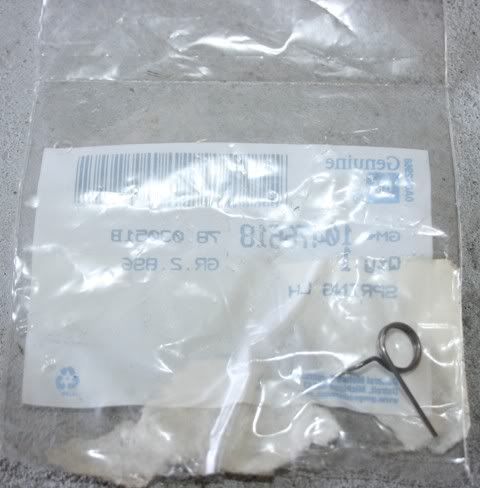 ---
Last edited by Boman; 10-25-2010 at

10:48 PM

. Reason: Update for sold items
I will take the timing cover set, extra timing cover gasket, exhaust gakets, return springs, shipped to 17339. LMK what I owe you and I will paypal.
---
BigBlackBeaSSt - 94' BBB lots of mods.*** 94 DGGM Woody Wagon to many mods to list
PM ME FOR BLEEDER VALVES.
Dibs on the TPS...how much shipped to 20002?
---
Hil Was Here...

Quote:
at some point a large overlap high compression motor with long tubes is going to shake & make so much sound that all metal spherical suspension noise transfer is another musician in the symphony of "Hot Muscle Cars Rule" in B minor
Hil go do some work!!!!

I'll take the turn signal springs shipped to 22134. LMK.
---
Quentin-1995 Impala SS-. New PB coming soon
PM sent at 12:29 AM...
---
So I am quite interested in seeing if I get a reply answering my requests or it will be the usual someone already bought xxxx.

Richard Snipes
4501 Safari in Jax, FL
---
So many projects, so little time, so little money...jist hope ta improve..
pm sent
---
95 BBB Impala SS-SSlow Work In Progress 68k mostly stock tinted out 2.5 Pypes Violater Cat-Back K&N CAI LS1 Swap In Progress
05 Trailblazer-Daily Driven With Train Horns
Senior Member
Join Date: Aug 2004
Location: St Louis
Posts: 1,465
exhaust gaskets
---
Ill take them and. Shipping to 63026
Member
Join Date: Dec 2005
Location: Spring, TX
Posts: 47
Like I said on page 2, I'm a little over whelmed by all the interest in the parts. I need a little time to sort through the posts and PMs. I will respond as soon as I can. Thanks!
Member
Join Date: Dec 2005
Location: Spring, TX
Posts: 47
Updated for sold/pending items
Member
Join Date: Dec 2005
Location: Spring, TX
Posts: 47